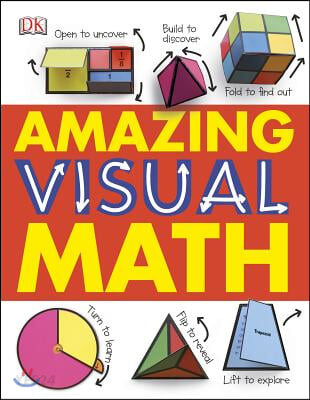 정보
ISBN : 9781465420176
출판사 : Dorling Kindersley
출판일 : 20140616
저자 : Dorling Kindersley
---
요약
If your child has a hard time grasping math concepts I would recommend picking up a copy. ? SheScribes.com[A] unique way of teaching key curriculum subjects, including shapes, patterns, telling time, lines of symmetry, addition, subtraction, measurement and more. ? TheMomBuzz.com
● Covering the essential math concepts learned in the first years of school, Amazing Visual Math brings a whole new dimension to learning.
Amazing Visual Math is an interactive hands-on experience that makes math fun. Key curriculum subjects including shapes, patterns, telling time, lines of symmetry, addition, subtraction, measurement and more are explained through over 50 interactive elements throughout the book including pop-ups, flaps, and pull the tab elements, making an otherwise tedious subject entertaining.
Ideal for developing manual dexterity skills and sharpening visual learning skills, Amazing Visual Math is a hands-on experience kids wont want to put down.
Supports the Common Core State Standards.
---
#Amazing Visual Math
리뷰